Best Social Media Plugins for WordPress
Interested in finding out which social media plugins are the best for your WordPress site? We all want our websites to be better, and plugins are a way to do that. To grow your following and increase traffic to your website, it should offer easy access to popular social networking sites. That's where plugins come in.
Most people go for creating their website via WordPress because it is the most popular and user-friendly choice. However, when creating your own site, you have to ensure that it is efficient and not bogged down by unfriendly processes that make it slow. A regular site audit should take care of any problems that might be hidden in your website. Once you have those in sight, you can find ways to make them faster, which includes plugins.
In any case, creating your own website is a great idea. The best part about it is that you don't need to hire a web designer and spend a huge amount of money to build your blog or e-store. You could learn to build it yourself using CreateWPSite tutorials on YouTube or read up about it through online guides. Once you have a website, the best way to enhance a user's experience through it is by using social media plugins.
Moreover, in WordPress, you can add client portal plugins for your customer. These plugins will enable your clients to create their own space, where they can download, or upload files to your webpage. Besides, they will have access to private files, content, or documents that are specially created for them. Clients could then customise their portal dashboard which tends to have optimum security, and accessibility when navigating through the site. WordPress for Client portal is an easy, and quick add-on that people prefer to use on their site for a better user experience.
In order to assist you in finding the right Social Media Plugins for WordPress for your small business, we have created this list.
WordPress Social Media Plugins: How to Add It?
Have you ever wondered how to add Social Media plugins to WordPress? You can find detailed instructions on how to install a WordPress plugin in this article which is very easy to follow.
We will move directly on to the best social media plugins for WordPress once you understand how easy it is to install a WordPress plugin.
Which WordPress social media plugin is the best?
Our top social media tools have been narrowed down from the thousands of WordPress plugins available.
1. Smash Balloon
Social Media Plugins for WordPress are few and far between, and Smash Balloon is the best. You can use it for bringing each social media platform to your WordPress site with the help of a few insanely powerful plugins.
Features:
Create a powerful social wall by combining Facebook, Twitter, Instagram, and YouTube feeds
Your Instagram feed can be linked directly to your WordPress website. You can even feature your Instagram feed on your website so that people can shop from it.
Show Twitter cards, tweets mentioning you (great for testimonials), and more using this custom Twitter feed.
Add Facebook posts and photos to your WordPress site and broadcast live videos
Videos from your favorites list can be displayed in a feed, thumbnails can be linked to videos, and the layout can be customized.
The number of social feeds you can create is unlimited.
Responsive on all mobile devices – Looks great on any device.
You can customize the appearance of your feeds.
2. Shared Counts
WordPress social media plugin Shared Counts is awesome, lightweight, and easy to use. The number of shares on different social media platforms for something on your site.
Features:
The plugin is extremely lightweight and doesn't slow down your site at all.
Even beginners will love this tool because it's easy to use.
If you want to make advanced customizations, you can use hooks and filters.
The site is GDPR-compliant – no cookies are used.
The plugin allows you to quickly enable custom post types.
There are buttons you can use to share content on Facebook, Pinterest, Twitter, LinkedIn, Yummly, Print, and Email.
3. Revive Social
If you want to get into marketing automation, we recommend checking out the Revive Social plugin. Your WordPress content can be automatically shared on social media with this plugin.
Features:
You can automatically set the frequency at which you want your old and new content to be shared and eliminate the need to use expensive social media management tools.
Choosing the amount of time between posts is easy with the paid version, which is ideal if you want to share a lot of backdated content.
Sharing RSS posts to Facebook, Twitter, LinkedIn, Tumblr, and more is easy with this RSS social media plugin.
Whenever you publish a post on WordPress, it will automatically be shared on your social media accounts.
Using social media analytics, you can learn a lot about the source of your traffic without having to manually add UTM tags to every post you create.
Create hashtags based on tag, category, or even custom field information for your posts.
Make sure certain posts are not included in your feeds and social media channels.
4. Social Warfare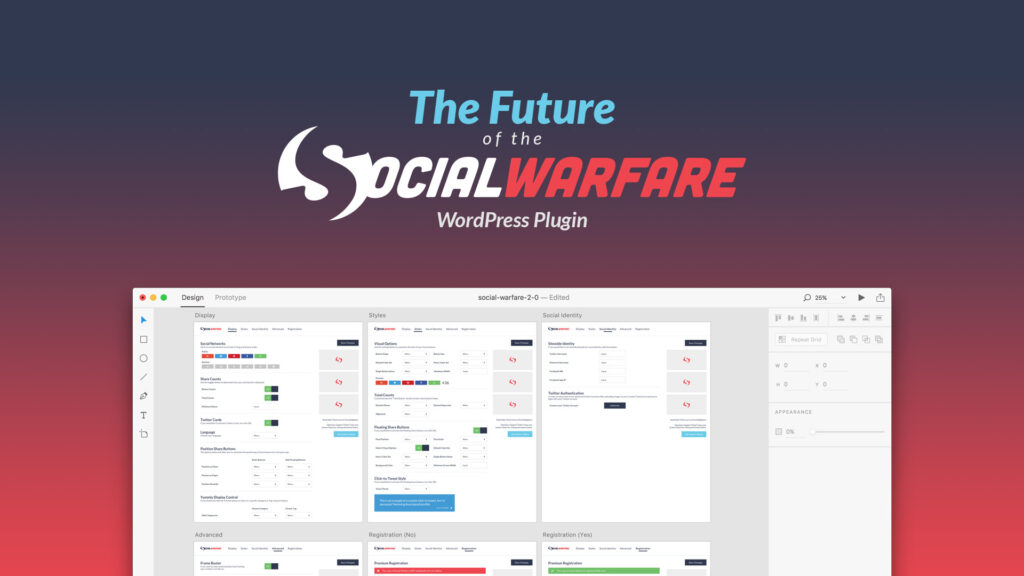 A feature-packed social media plugin, Social Warfare, is another of our top choices. Social media sharing can be controlled by controlling what (and how) people share.
Features:
You can customize your posts to get more clicks and traffic by adding custom titles, images, and descriptions.
Using Google Analytics, you can keep track of how your social shares are doing.
Your most popular posts can be displayed in a widget and you can determine which are performing well based on the number of views.
When switching permalink structures, share counts can be recovered easily.
5. AddToAny Share Buttons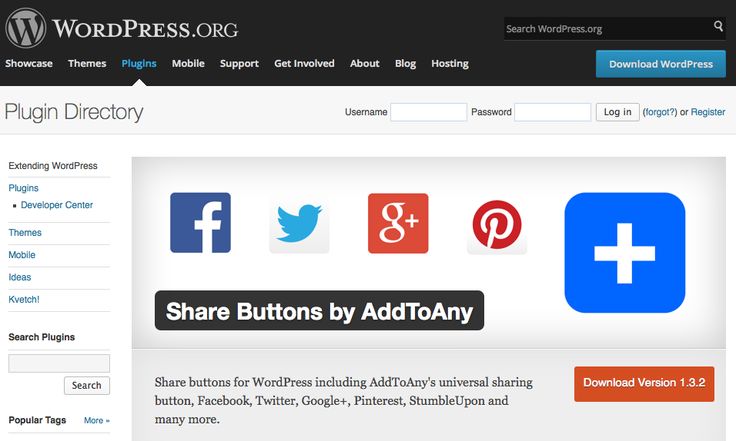 If you are looking for a simple social media plugin with universal sharing, AddToAny Share Buttons is a great choice.
Features:
There are tons of social media platforms available with their social media share buttons.
A social sharing bar that floats and a social sharing bar that is fixed
Keeping track of sharing is so easy with the universal sharing menu.
Easily share your content with your visitors with global social sharing buttons.
6. Simple Social Icons
An easy way to display social media icons is by using Simple Social Icons on your sidebar. With a few simple steps, you can easily install these powerful social icons in your WordPress sidebar.
Features:
Styles of buttons can be customized – Choose your favorite color from an array of options.
You won't notice a slowdown on your site because it is lightweight and fast.
There are fewer icons, but most social platforms are still available.
The most important icons should be placed at the top of your social media page, so you can reorder them.
You can add your own icons – This will allow you to choose from a variety of icons.
7. Better Click to Tweet
You'll notice those cool quote boxes on blogs thanks to Better Click to Tweet. Your brand and WordPress website can be instantly exposed to social media by encouraging your readers to share an impactful quote on Twitter.
Features:
This is without a doubt one of the most popular clicks for Social Media Plugins on the market.
There is a free version as well as a premium version that is accessible to everyone.
Simple shortcodes or the block editor make it easy to use.
A callback URL that can be adjusted boosts traffic.
Easily customize the display by removing or changing the 'via' section.
Designer-friendly – Designers, developers, and CSS experts will find plenty of styling options here.
In conjunction with URL shorteners, link shorteners are used to reduce the length of characters.
There is active support in the WordPress.org forums for the plugin by the plugin's author.
8. Sassy Social Share
You can easily share your content on social media platforms with Sassy Social Share, more than just a fun name. A wide variety of sites can be supported by this plugin.
Features:
This plugin is compatible with WooCommerce and BuddyPress.
Designed for blazingly fast performance, Featherlight won't bog down your site's performance.
Support team – Quick and helpful answers from an A+ customer service team.
You can view the website on any device, no matter the size. It is 100% responsive.
It supports more than 100 social media and bookmarking websites.
A compatible AMP version supports page reloading.
9. WordPress to Buffer
If you use the popular social media management software Buffer, WordPress to Buffer is a great tool to use. Your Buffer account gets updated when scheduled posts are made with this plugin.
Features:
Official Buffer partner – Selected by Buffer itself to continue access to a number of its APIs.
Your WordPress content will be automatically posted to your Buffer queue with this smart WordPress automation.
Share content automatically on your Facebook, Twitter, and LinkedIn profiles via social media.
You can share heavily visual content with Instagram and Pinterest if you purchase the premium version of this plugin.
Dynamic tags – Add status updates that are customized for each post by automatically syncing its title, content, and more.
Getting suspended for posting the same posts more than once won't be an issue with our social media management tools.
10. Social Icons Widget
A great option for social media plugins for WordPress, Social Icons Widget is another useful tool. It is possible to display social media icons on your website by adding a widget to the sidebar. Then, simply link them to your social media profiles right on your sidebar.
Features:
A widget allows you to add social media icons with links to your profiles to your WordPress website quickly.
There is no limit to the number of social icons you can add.
A color picker and padding and sizing option for the icons enable easy customization, such as changing the button colors and hover colors.
Supports more than 100 social networking websites and platforms.
More than 400 different icons – This plugin has social media platform icons for every major platform, as well as generic icons for use anywhere.
The plugin can be used with the block editor if you have the visual editor.
Also Read : What is Search Engine Marketing you should know that
Conclusion
This is everything you need to know! We hope you found this post helpful in finding the best WordPress Social Media Plugins for you.